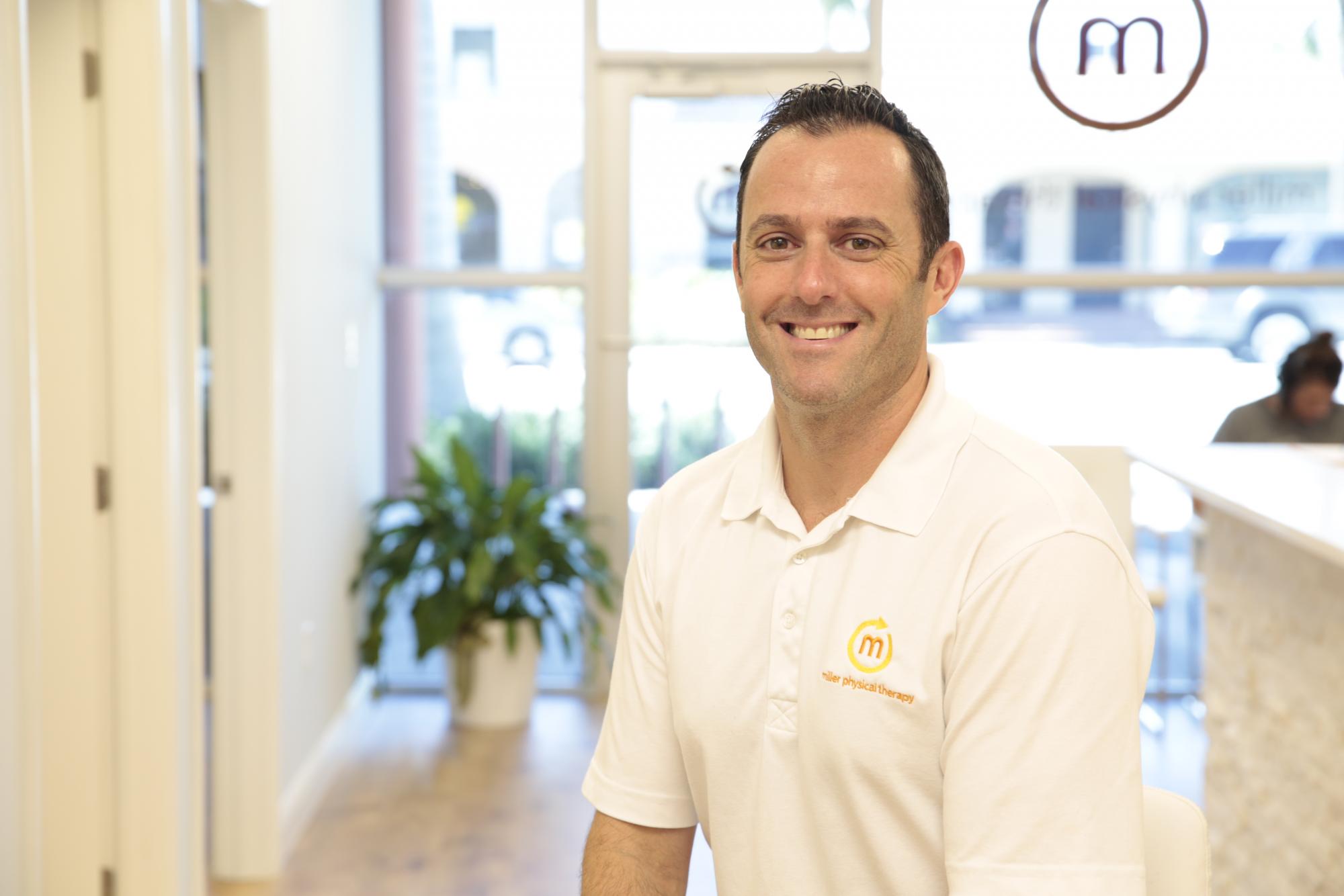 Scott Miller, Founder & Owner, MPT

Before founding Miller Physical Therapy, Scott served patients as a Senior Physical Therapist at Advanced Physical Therapy Associates and North Beach Physical Therapy and Wellness Center. For the former, he created the therapeutic treatment plans for each new patient at the clinic and provided essential training to staff therapists on injury prevention and manual techniques. For the latter, Scott specialized in treating post-surgical and orthopedic injuries.
These senior positions were preceded by experience providing physical therapy to his many patients at a variety of facilities for sports therapy, post-surgical recovery, and geriatric treatment. Scott treated patients and their injuries at Jackson Memorial Hospital on one of the clinic's surgical teams and at Nova Southeastern University's Osteopathic Treatment Center. At Sports Specialty Inc. in Weston Florida, Scott developed and provided treatments to top professional athletes including members of the Miami Dolphins.
Scott Miller is a licensed Physical Therapist in the state of Florida and an active member of the American Physical Therapy Association. He is a certified health and fitness instructor by the American College of Sports Medicine, and CPR & First Aid certified by the American Red Cross. An alumnus of Nova Southeastern University, it was there where he received his MPT in Physical Therapy.
Scott resides in Delray Beach with his wife Beth, daughter Jules, and son Brooks. Scott enjoys spending time with his family, working out at Crossfit, participating in adventure runs, and is an avid tennis player.
Favorite Quote: "Live life to the fullest and focus on the positive."

Kristy Bolha, DPT
Kristy was born in a small city by the name of Greensburg, Pennsylvania, just outside of Pittsburgh. When she was sixteen, she was diagnosed with Rheumatoid Arthritis. Her first-hand experiences with the impact of lifestyle choices on prevention and reversing disease process led Kristy to develop a passion for health, fitness and overall wellness. In 2008 she received her Bachelor of Science Degree in Exercise Science from the University of Pittsburgh and graduated with her Doctorate degree in Physical Therapy in 2011. Kristy's education, and personal and professional experiences have taught her that the body has an innate way to heal itself when provided with the right environment, nutrition, and exercising. This is the guiding philosophy that Kristy integrates into her treatment approach with each patient and contribute to Miller Physical Therapy.
Prior to joining Miller Physical Therapy, Kristy worked in inpatient, subacute, and outpatient/orthopedic settings. Kristy's professional experiences have given her a thorough understanding of the various natural healing stages of the human body and the positive impact of rehabilitative/restorative medicine. She is particularly well-versed in the recovery of orthopedic injuries and surgical interventions, especially joint replacements and connective tissue/ligament repairs. Additionally, she firmly believes in the efficacy of hands-on therapy, and has pursued post-graduate education for techniques for myofascial trigger point identification and treatment.
Upon finishing school, Kristy relocated to South Florida to begin her professional career and center it around a healthy lifestyle. When not working, Kristy enjoys practicing yoga, working out in the gym, walking her dogs, cooking up healthy recipes and frequenting the local cafes and restaurants. Her favorite activity is weight training as it requires self-discipline, strength and focus. Kristy firmly believes that "when the mind and body are connected amazing things begin to transpire."

Favorite Quote: "Start where you are. Use what you have. Do what you can."
Shannon Gluck, Physical Therapy Assistant

Shannon was born and raised on the west coast of Florida and has resided in South Florida since 2015. She attended PBSC for her prerequisites and completed the PTA program at Broward College with honors. Having spent four years as a certified lifeguard/swim instructor with the YMCA and 4.5 years with EMS as a state-licensed Firefighter/EMT, Shannon has acquired diverse and valuable experience. Shannon's hobbies include playing with her dog and paddleboarding along the Intracoastal. Her previous experiences with several triathlons, 5Ks, and half marathons are what sparked her interest in helping others get back to their healthy, active lifestyles.

Favorite Quote: "People with great passion can make the impossible happen."


Ignacio Poplawski, Physical Therapy Tech

As the newest professional at Miller PT, Ignacio is thoroughly enjoying his first year with the team. Born in Buenos Aires, Argentina, Ignacio is happy with where his life's path has taken him. Ignacio attended Palm Beach State Community College and played professional soccer for four years. He enjoys staying fit at the gym or participating in outdoor, sports-related activities. He also likes spending time expanding his training and attending socials.

Favorite Quote: "Accept no one's definition of your life. Define yourself."

James Delsing, Marketing Director

James graduated high school from American Heritage in Boca, FL. He enrolled in the University of Tampa and graduated with a degree in Sport Management. During his schooling, James enjoyed playing college soccer. James is happy to be part of an outstanding group of professionals and loves helping people on their journey to total health. James has close ties with his family and enjoys spending time with them. He keeps fit with regular workouts and spending time on the golf course.
Favorite Quote: "The happiness of your life depends on the quality of your thoughts."
Olaff Pierre-Louis, Physical Therapist Assistant

Olaff completed his schooling at Broward College and attended Palm Beach State College. He is a licensed Massage Therapist and has been with Miller PT for two years Olaff has been practicing massage therapy since 2015, and he has more recently been practicing as PTA since 2019. When he is not helping people address injuries at work, Olaf enjoys playing a variety of sports, although he particularly likes soccer. He likes to express his creative side through painting and drawing and appreciates art and reading.
Favorite Quote: "As long as you live, keep learning how to live." "Don't explain your philosophy. Embody it."